FoneGeek: iPhone Passcode Unlocker App Review
It can seem like the end of the world when you get locked out of your iPhone and you don't know the passcode. But with a tool like FoneGeek iPhone Passcode Unlocker, you can get access to the locked device in just a few minutes.
What is FoneGeek iPhone Passcode Unlocker?
FoneGeek Passcode Unlocker is a third-party iOS unlocking tool that can help you bypass the common lock issues on any iPhone or iPad. It is fast and easy to use, saving you a lot of time, money and effort.
When most people get locked out of their iOS devices, the first solution that comes to mind is a trip to the local Apple Store. FoneGeek iPhone Passcode Unlocker means that you don't have to; you can use it to easily get past most iOS lock scenarios including iCloud Activation Lock, Screen Time Passcode, Face/Touch malfunction and even iPhone is disabled.
The most noteworthy feature is its ability to bypass iCloud Activation Lock, removing all restrictions and allowing you access to the iOS device.
It is also the best way to disable Find My iPhone even without the password.
Easy Unlocking Tool
FoneGeek iPhone Password Unlocker has a very intuitive interface, making it one of the easiest iOS unlocking tools to use. You can easily unlock your device even if you don't have any technical skills; just follow these simple steps;
Step 1: Open FoneGeek and select the best unlocking mode for the device you want to unlock.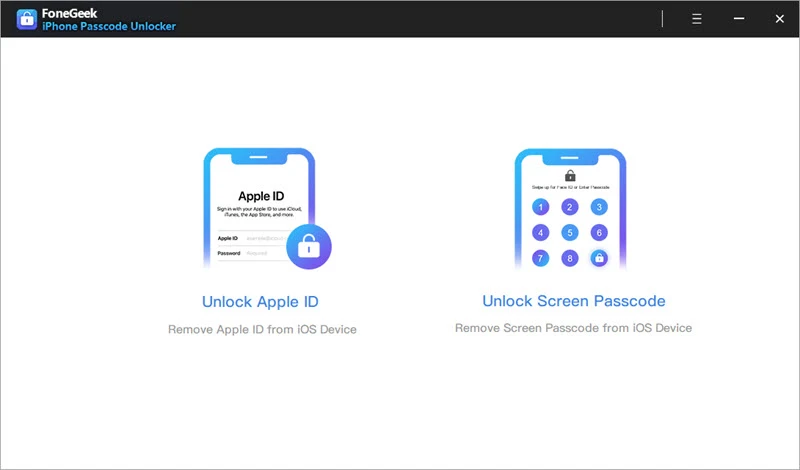 Step 2: Connect the iOS device to the computer and wait for the program to detect the device.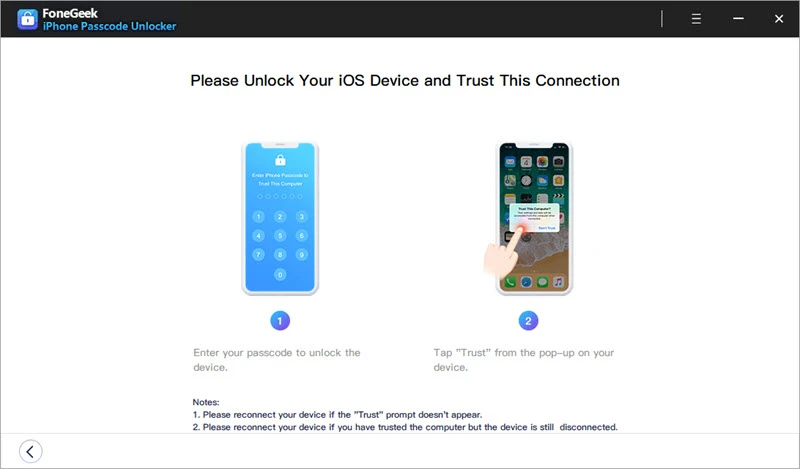 Step 3: FoneGeek will begin unlocking the device and in a few minutes, you should be able to use your device again.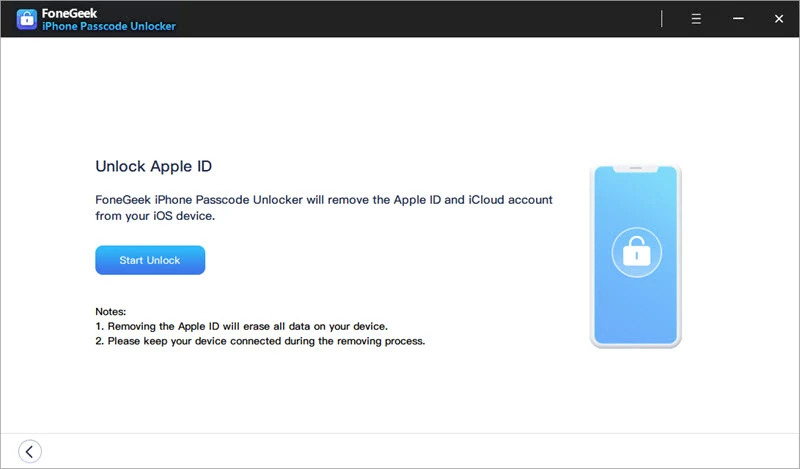 Unlocks a Wide Array of Devices
This unlocking tool is also ideal because it supports many iOS devices and operating systems. For example, you can use it to bypass iCloud Activation Lock on all iPhone models from iPhone 5s to iPhone 13 Pro and all iPad models running iOS 15 and later.
It can also be used to unlock an iPod Touch.
6-in-1 Unlocking Software for iPhone
FoneGeek iPhone Passcode Unlocker can be a great solution if you forgot your iPhone password, the iPhone is disabled, Face or Touch ID is not working or you're getting password expired notification. It will work even if the device's screen is disabled or you have a second-hand device and it is impossible to guess the password.
FoneGeek iPhone Password Unlocker is a comprehensive, effective solution that works much better than the competition. It will remove all passwords permanently and without any restrictions.
High Success Rate
When you're locked out of your device, you want a solution that will work every time you use it and when it comes to success rate, there is no better solution than FoneGeek iPhone Passcode Unlocker. It is effective enough to easily unlock iOS devices and even Apple MDM and Apple ID.
When the MDM profile gets in the way or you need to remove the current Apple ID from the device without having to guess or enter the password, you can count on FoneGeek to get it done.
Enjoy 20% Off FoneGeek
FoneGeek iPhone Passcode Unlocker is one of the very few tools that will actually unlock your device. It is very easy to use, highly effective and lightweight; not to mention that is saves you a trip to the Apple Store.
And, you can now get 20% off this incredible unlocking tool if you purchase a subscription today. Just enter the coupon code UNLOCKCODES20 during checkout to apply the discount.